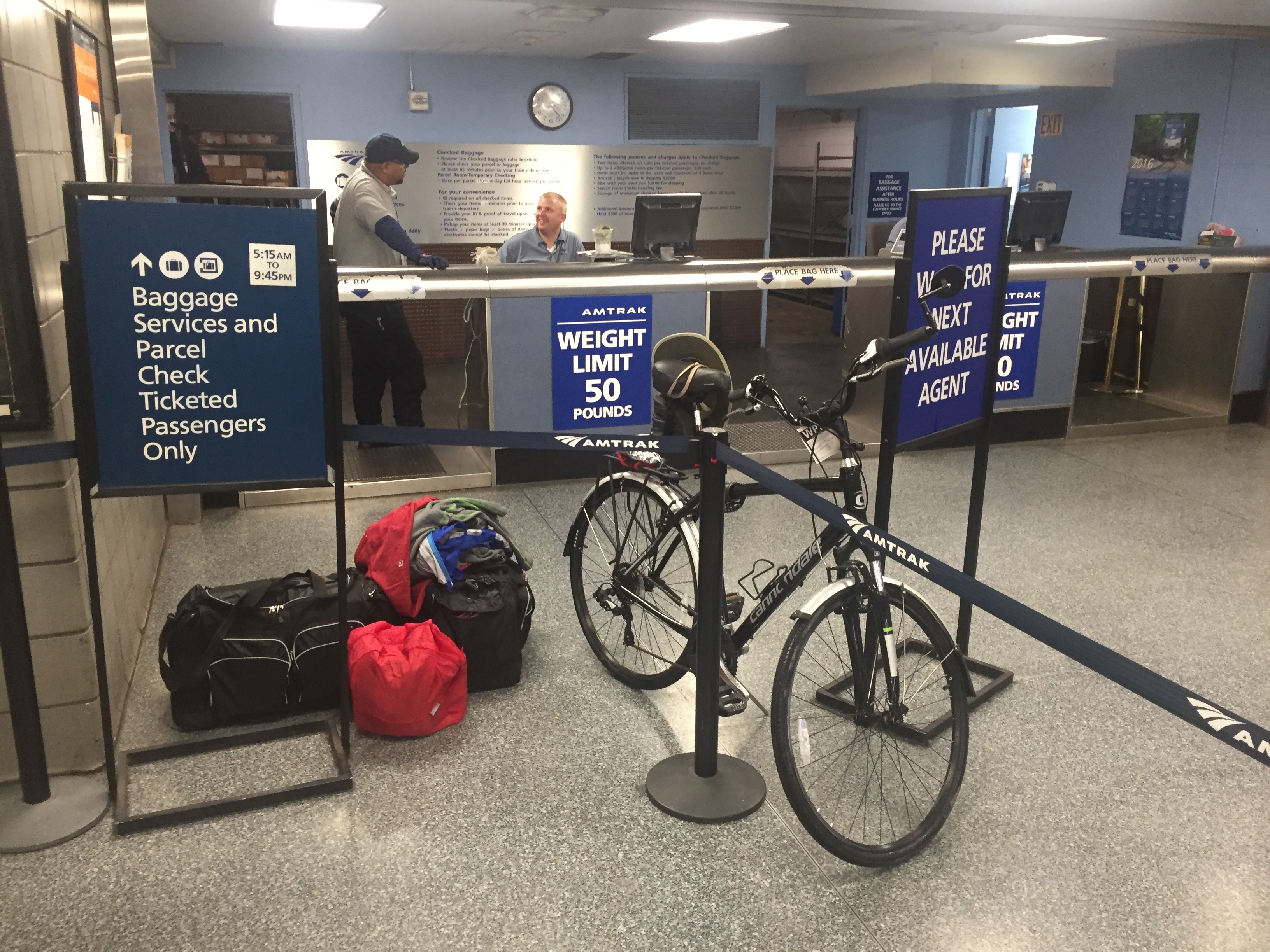 Rocky Mount, NC
December 01, 2016 12:06am
I have this habit of waiting till the last minute for things. Not small things, but big things. Things like moving to another state or going on a kayak expedition. I can clearly remember my first cross country motorcycle trip in 1999. I was looking for a tent and sleeping bag the night before I was to leave. When I would set out on other motorcycle tours, it would not be uncommon for me to have the bike torn apart as I added last minute accessories or change the oil or a faulty wire. When I set out on my kayak expedition, I didn't do a wet test to see if it could hold the weight or if I could paddle it loaded until the night before departing. Long ago, I decided that this was a coping mechanism. If you make yourself so busy before doing something big, you'll have little time to worry about your decision as you spend all your time running around crazy preparing for it.
This trip was to be no different. While I had decided to head to the Florida Keys since ending my kayak expedition early, I had no idea how I was going to get down there. It wasn't until I bought a bicycle to get around in Vermont that I started to play with the idea of biking down, but after looking at the cost factor involved in that, it would be as expensive as flying and I was trying to avoid expensive. Then I recalled a train trip I took to Chicago many years ago. Thought I don't remember why I took the train to get there, I did and I enjoyed it. Years later I took a train from Albany, NY to Rochester, NY where I bought my kayak, the same kayak I have today. I looked at the cost for Amtrak and I knew right away I found my solution. For just $118 US, I could get from NY Penn Station to Miami, FL and by taking the train; I could bring the bike and all my possessions, aside from the kayak and kayak gear.
November would be the third time in my life where I have attempted to de-clutter my life or in other words, sell off everything I own. Many people who talk off to travel the world, tour the country or live small simply put a lot of items in storage. I too had done this, but this time I didn't want to do that. Aside from Lexie's ashes and a few legal records I can't dispose of, I didn't want to own anything more than I could carry on my bike this time. This meant that everything had to go.
With just two days to go before departing Vermont for good, I held my final garage sale and took to the task of liquidating all my tools. I decided to sell the kayak and the gear since I was finding it too expensive to ship to Florida. By Monday morning, I had been semi successful in the liquidation. I had just a few power tools left and a large box of clothing I'd be donating. While having breakfast Monday, I was contacted by a gentlemen would made me an offer to buy out the rest of my tools.
The only thing that didn't sell was the kayak and kayak gear.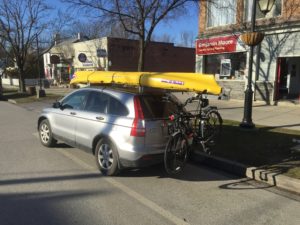 We left Vermont just after 1pm Monday and arrived in New York in time to have dinner with my parents before departing for the Florida Keys. The kayak came back with us and we decided to store in at their house until I could get it shipped or sell it.
Tuesday was a whirlwind of excitement as I attempted to box up all my possession into the baggage size guidelines for Amtrak. I would also have to be able to carry my possession on the bike trailer once I reached Miami, FL. Just like the kayak trip, I was doing a test run with the trailer around 10pm, or just about 12 hours until departure.
I awoke this morning nervous. My fear wasn't so much on the move, but the drop off location and my luggage. Penn Station has no drop off location meaning there was no place to calmly unload Arlene's car and get my luggage down into Penn Station. On top of that, it was pouring. Then there was the concern that they might not accept my luggage.
We departed Yorktown Heights, NY on time and arrived in the city on schedule. Trying to get to Penn Station was as difficult as we figured it would be, but the new bus lanes and no right / no left turn zones complicated things even more, but Arlene got me there and found a spot to get off the road so I could unload. After a few trips in the pouring rain, I got the bike, the trailer and four bags of luggage to the elevator where Arlene was keeping an eye on it for me. Unfortunately, this is where I'd have to say Goodbye to Arlene as she was illegally parked. We said our goodbyes and down the elevator I went.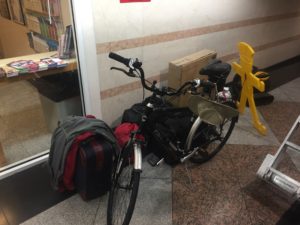 When the doors opened on the lower level, I ran into two Amtrak Red Caps. They are the ones who assist you with your luggage and one of them told me to wait there for him. A few minutes later he returned with a hand truck. He took all my bags and I followed him with my bike to the Baggage Check In. Once there he left, but the Amtrak employee behind the counter told me to wait there and he'd assist me in getting on the train. Sure enough, about thirty minutes before departure, He took my bags and I followed with my bike. He led me down a private escalator and to the waiting train. There he led me to the baggage car where we secured the bike and then he took the rest of my bags to my seat. I was the first person on the train. All my fears had vanished due to his help and the earlier assistance from the Red Cap and of course, Arlene.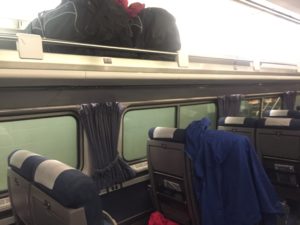 My other fear was access to my luggage and seating, but again, once I arrived on the train, this too subsided. My carry on luggage was right above me and easily accessible while the seats were large and I had plenty of room for my legs. I also got a window seat, which wouldn't do me much good, since we'd soon be in the dark. This train was going to leave at 3pm and run all through the night. I'll be arriving in Winter Park Florida just after noon the next day. In Winter Park, I'd be visiting some friends before taking another train to Miami.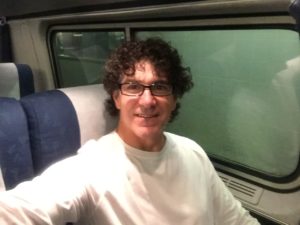 I've now been on the train nine hours and I'm really enjoying it. I had a wonderful dinner in the dining car at 6pm and have been working on the blog and Facebooking here in the lounge car after that. One thing I immediately noticed being onboard this train is just how many people travel all over the country on it. Many of the people around me have taken multiple trips up and down the East Coast, Across the US (NY to San Francisco) as well as other shorter destinations such as the ones I had taken before. Unlike a plane, the train allows people to meet and greet. You get to wander the train, sit in multiple areas throughout the trip and its not anywhere near as loud as a plane. The only drawback I can see is the time, but if you look at the time as part of your trip and not a means to get there, its well worth it. I am in love with train travel. Now all I have to figure out is if I take the train in the Spring from Miami to Los Angles or up to Chicago and then to San Francisco. I hear that the Chicago to San Francisco train is absolutely beautiful. Choices Choices.
Soon I will return to my comfy seat and drift off to sleep as the train rocks me to and fro. No, I didn't get the upgraded sleeper as it was out of my price range, but I would suggest it if its in your price range. For me, the seat is as comfy as any tent site so it works just fine.
Have you take a train somewhere far away? What was your experience like?