Wonder of Wander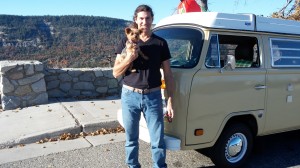 Wonder of Wander founder Larry Jensen, has began exploring the USA by bicycle, motorcycle, VW bus, kayak and foot since 1999.
In 2017, he turned his four year old travelogue into a travel website dedicated to the vagabond traveler. "Our focus is the show our readers how to travel on a tight budget. We'll help you spend less money and more time on your vacations and introduce you to some amazing people and places along the way" Larry said.
From Trip Ideas to Guides and Destinations, we'll introduce you to local culture and share our stories from the road along the way. All done on a tight budget.
Larry is available for Story Telling, Seminars and Interviews.  Click Contact at the bottom of the page.
If you're a vagabond traveler that would like to submit a story, please click Contact at the bottom of the page and send us a paragraph or two about your trip. We'll be back in touch.