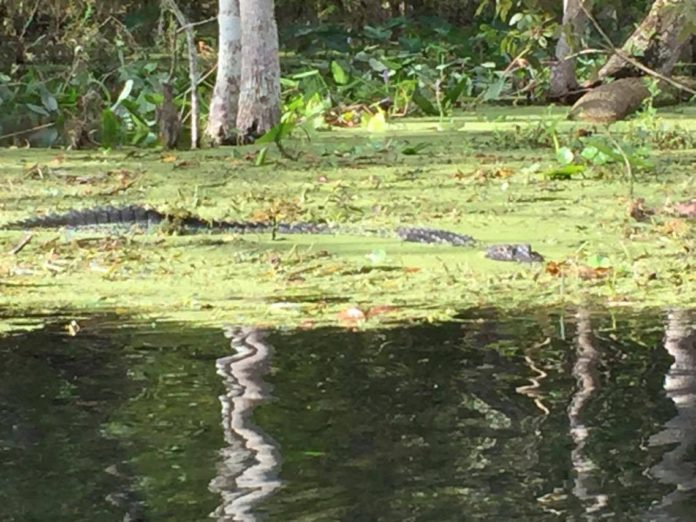 Most people in the USA along with many other countries are well aware of the devastation Irma and Marie caused to the islands in the Atlantic and Florida, Georgia and South Carolina and I write this, I have people I consider to be close friends who have lost everything. It is rather difficult for me to express the joy I feel from this past week's adventures and the excitement I feel toward the next one that lays ahead for me while they are still reeling from total devastation.
So before I begin, I would like to encourage my readers to reach out and find a charity of your choosing that is providing aid to our friends and donate. For my friends that were personally affected, know that you are in my thoughts and I will do everything in my power to help you – just reach out to me and let me know what it is you personally need.
Back in August, I was told of an opportunity to crew on a sailboat delivery. I immediately jumped on it, though it would not be until September when it was confirmed that I'd be on board. I'd have to get myself to Florida first though. I immediately began searching for an opportunity to dog/house sit in Florida to fund my trip from New York to Florida. Within a day, I had the opportunity I was looking for and I purchased my train ticket to DeLand, FL. From there, I'd be headed out to New Smyrna Beach where I'd spend a week with some furry friends and I'd also get to meet some fellow kayakers I had met via a Facebook Group called – The Church of the Double Bladed Paddlers. For the next seven days, I got to kayak and explore this region of Florida as well as enjoy their beaches.
First up was an opportunity to kayak the crystal clear waters of Silver Springs. Now I had been to Silver Springs before as a child when this was a theme park. I remember imagining, as we floated down the water in a glass bottom boat, that I was an explorer in some far off jungle. Monkeys swung through the trees while colorful fish and turtles swam under the boat. Alligators sat very still on the rivers edge keeping a watchful eye on us as we passed by. As a child, my heart raced with excitement. Now, here I was, in the very same waters in a kayak. No longer a theme park, but many of the buildings I remember still remain on the riverbanks as we paddled by. Alligators still sat motionless on the rivers edge and turtles and fish swam under us. Though the monkeys are still there, we did not see any on this outing. It would have been a beautiful paddle regardless, but having been here as a child and now returning as an adult and paddling it was truly an amazing experience. I was so thankful my friends Heather, Jean and Mark were able to include me on this outing.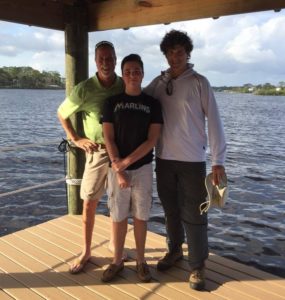 After returning from Silver Springs, I had the opportunity to meet up with my cousin, whom I had not seen in some 40 years and his son. I had met his Dad, my Uncle at the end of my Canada to Key West paddle last year and he had told me that Steve and I were very much alike, not just in age and birthday, but in personality. After having dinner with Steve, I think he was right. I'll be sure to not let another 40 years go by before seeing him again.
My next outing was to Callalisa Creek. We weren't even ten minutes into the paddle when I heard a familiar sound. Dolphins! They were swimming right at us, three of them and it was amazing to see them in the wild. One was chasing fish as the other two swam side by side. We explored the mangroves by instinct to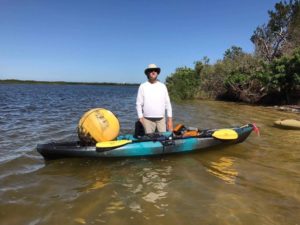 see how far we could get. We only ran into one dead end and by midday we had left the creek and made it into the ICW. Here we saw the damage caused by both Irma a few weeks before and Matthew from last year. Boats were still blown up in the mangroves, docks and roofs destroyed and waterfront parks washed away. I we paddled over to one boat that was in the mangroves, Jean spotted a mooring ball near it. Upon spotting a phone number on it and knowing how expensive these are, we called the number and found the owner. I loaded the ball onto my kayak and would take it all the way back to the pull out with me. From there we headed to see yet another boat pushed into the mangroves and as we entered the small bay where it was, we spotted a manatee feeding. We stopped and just watched it eat and gracefully swim through the water before moving on. Before we finished the paddle, we passed a sunken boat that's been there so long, it's now marked with a hazard buoy. Back at the launch, the owner of that mooring ball met up with us and retrieved it. He was quite happy we recovered it for him. Our paddle turned out to be just under 10 miles long for this trip, but our paddling wasn't over. Tonight, we'd be headed south for something magical.
Since my arrival here, I was told about this amazing phenomenon called Bioluminescence in the waters about an hour south of me. Even though we had paddled 10 miles during the day, we were determined to head out tonight and paddle some more. I am so glad we did too because tonight would be the most phenomenal paddling experience of my life.
We arrived about 8pm and pulled off the highway at a very non descript spot. The location was marked with just a mile market and evidence of heavy vehicle pull off that had killed any grass there. The waters edge was full of tall brush except for one small spot. We backed up, unloaded the kayaks and got in the water.
Immediately after setting off under the cover of darkness on this mostly moonless night, the water began to light up. We each stroke of our paddles, as our kayaks cut through the water the water began to glow a bright blue. We paddled out to an island and as we got close to the shore, the kayaks disturbed the fish and they began to race away from us and jumped over us. Yes, over – as in, they jumped out of the water and over the kayaks. Like us, their movement lit up the water. All around us blue streaks flew out in all directions as they swam while our kayaks and paddles did the same.
We paddled around the island once and then as we sat there in the pitch black looking at cars cross over a far off bridge, we heard it. Chuff! A strong burst of air pierced the silence of the night. A dolphin was out there with us. With our eyes fully adjusted to the darkness, we began looking for it – and then we spotted it or rather them; three dolphins out there with us looking for fish. As they swam under the water, we could see their shape light up in this bioluminescent water. When they would come up to Chuff, we could see their fins cut through the water glowing. We now began to watch and observe them. If it had ended right there, it would still have been amazing, but the night wasn't over yet. Eventually, the dolphins left the area and we went back to paddling around the island and watching the fish before heading back to the launch as we'd been out here about three hours now.
We reached the launch, but it was just too beautiful to pull out just yet so we floated around a little more when suddenly we heard it again. Chuff! There was a commercial channel that ran along the side of the road where we were pulling out and the dolphins must have swam up there earlier when we lost sight of them. Now they were returning, but the channel was small and we were in it. We were now closer to the dolphins than before. The first one came by us quickly, we then heard the second and I began to paddle in its direction when I noticed it coming right at me. I stopped paddling and just floated as it approached my kayak, the water glowing blue all around it and then just as it reached me, it swam right under my boat and came out on the other side. I was in awe as I saw it go under me. We then heard the third one chuff and saw it swim around us as they headed back out to the bay where we first saw them.
My night had reached its apex. The bioluminescent paddle was amazing on it's own, but to add in the fish, dolphins and then that close encounter – I could not have asked for more. This night instantly became the most amazing paddle I've ever experienced.
As if kayaking wasn't enough, I also got to go to two concerts. I saw the Zac Brown Band, which was an amazing concert and then an AC/DC tribute band in Daytona Beach. I also got to spend time on the beach at the Canaveral National Seashore and did some hiking as well. It was an adventurous 7 days here in New Smyrna Beach and I am very grateful for having had this opportunity. I am also thankful for local kayak expert and guide Jean, for showing me how amazing this area is.
As I headed north to Jacksonville, I got to meet up with my good friends Thea and David for dinner in Ormond Beach before continuing on Jacksonville where I was to meet my Captain the following morning to head out to the boat, but plans changed and I'd end up with an extra day.
My new friend Heather who had kayaked with us in Silver Springs, offered me a place to stay for two nights while I waited and offered to give me a grand tour of Jacksonville. We started off the next morning with a trip to the Cool Moose Coffee Company, a coffee shop in Jacksonville with a New England flare. One of the owners is a Vermont native. There we met up with my friend Sharon from one of my motorcycle groups. Sharon is an adventurer at heart as well as having some published articles in adventure riding. It was great to finally meet her in person.
After breakfast, we went to the Kingsley Plantation and toured the grounds while getting an education about a part of slavery I was not aware of. From there we headed down to the historic Ribault Club and then to sandy beach at Little Talbot Island where I found my first Sand Dollar – and it was a whole one.
Well I sure did squeeze a lot into a week, but the adventure isn't over. From here I head up to Brunswick, GA where I get aboard a sailboat and help sail it north to New Jersey. If the weather cooperates, we will hopefully sail it the whole way back and stay out of the ICW. It will be my longest sail to date and I'm very excited about the opportunity that led to the adventure in Florida.
Thank you to everyone who made my stay here truly amazing. You will all remain in my heart.