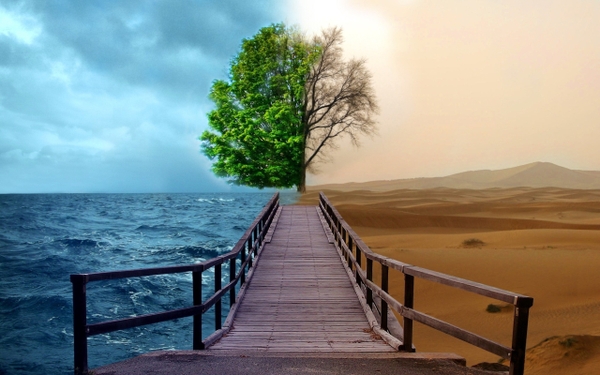 noun
1.

the state of being strikingly different from something else, typically something in juxtaposition or close association.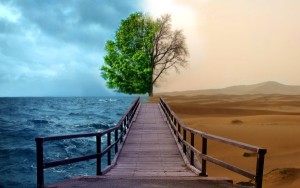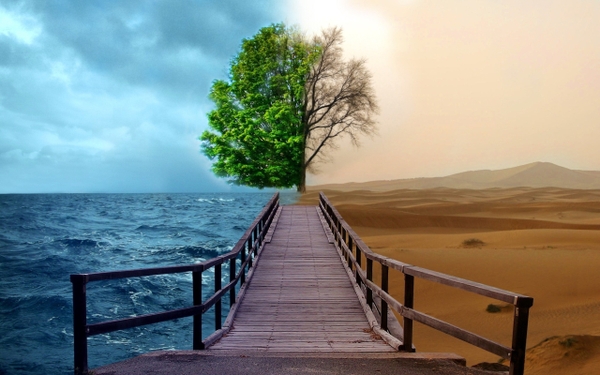 Think about your life for a minute. I'm betting you can probably identify at least a dozen objects or situations of contrast. Be it an old house with a modern kitchen, going to a mundane job with a flashy car. Perhaps its the normal looking person with a private wild side only a few know about. People who camp understand contrast. They leave the comfort of their homes to sleep on the ground in a tent. Others go on lavish vacations getting a taste of how the other half live. We even see contrast in dating. The tall person dating the short person, the wild one dating the quiet one. Contrast is woven deep within our lives.
Some of us crave Contrast. Some just want a sip every now and then.
For those of us that live in an area that experiences the 4 Seasons, we are just entering the season of Contrast or as some call it – Fall or Autumn. Fall is all about contrast. Our once lush green trees now stand out vibrantly against each other. Reds, Yellows, Oranges. Wheat turning golden yellow against the green grass. Cold nights standing in contrast to warm days. Yes, Fall is all about Contrast.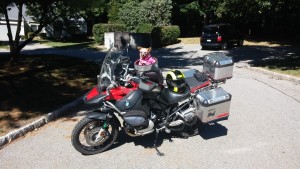 Today I saddled up Lexie and we headed out for our first Fall Motorcycle Ride which ended up covering 3 states. Now if you don't live in New England, that might sounds like a lot of riding, but in New England, that's a fairly easy task and we managed to pull that off almost strictly on dirt roads today.
We left Yorktown Heights, NY – a Northern Suburb of NYC, around 11am and headed North up the Taconic State Parkway to Rt 23 East into Hillsdale, NY where we turned South on Rt 22. Our first stop was to be the Depot Deli in Copak, NY right across from the trail head for Bash Bish Falls in the Taconic Mountains borders both New York's Taconic State Park and and Massachusetts 's Mt. Washington State Forest. Bash Bish Falls were named one of the Most Dangerous Tourist Attractions in the world in 2010 and yet is is beautiful.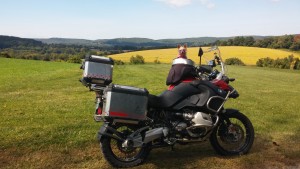 The original plan was to meet up with two other riders here, but I was late and they mistakenly told me they were on Rt 343 which was south of where I was now and had just come from that area so I told them to go ahead and we'd meet up another time. I decided to head to Max BMW in Brookfield, CT instead and pick up a new headlight bulb as mine blew out the day before. As I headed south on NY Rt 22, I passed Rt 344 / Copake Falls and immediately knew they had mistakenly told me the wrong road.   A mile or two down the road, I saw a dirt road heading back into the Taconic State Park so I decided to detour off my new route and double back to Copake Falls via the back dirt roads. I ended up at the Depot Deli just minutes after they had left, but sometimes mistakes work out beautifully and this was going to be one of those times.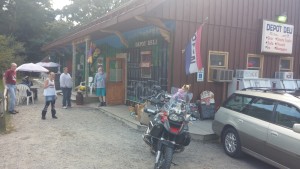 Pulling into the Deli I was greeted by the staff and a couple of customers before I was even off the bike, they even knew my name. Turns out the guys I was supposed to ride with told them about Lexie and I already. It was funny that they knew my name thought because most people know Lexie but have no idea who I am when we ride. Lexie does have a world wide following and rightfully so.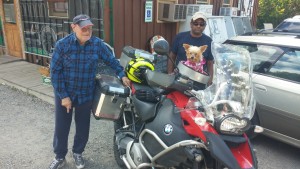 I decided this would make a good lunch stop and Lexie was making friends fast so we hung out for a little while. It was then that I met Stan and Deson. These two characters reminded me of Jack Nicholson and Morgan Freeman in The Bucket List. Deson is three years in Remission after surviving Lung Cancer treatment and Stan is fighting back from a stroke that paralyzed his right side. Both talked about a dream of going to Alaska. Life before their illness and good times together. Both are there supporting each other now. Before leaving, I asked them if they would pose with Lexie on the bike as Lexie fights her own battle with cancer. Stan agreed with prompting by Deson and I watched Deson help Stan up on his feet and then coached him, step by step, across the gravel parking lot to the motorcycle. At no time did Stan complain or seemed annoyed. I could see just how close these two friends are. There for each other in what some would consider a low point, but I saw it as a high point. When else in life could we know who are real friends are other than at a time like this. I watched the two of them enjoy each other, support each other and reminisce about good times in the past together. Deson told me about how Stan was there in the hospital when he, Deson, had died and been revived numerous times while undergoing surgery. Then about a year later, Deson was there while Stan was in a Coma in the hospital following his stroke. I watched these two interact and hoped that I too will have a friend as close and good as Stan and Deson are to each other. Yes, Stan and Deson are a great example of the contrast in life.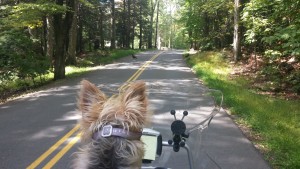 After getting some great direction from the Deli owner about how I could get over the Taconic Mountain toward the Massachusetts state line via some dirt and Class 4 roads, Lexie and I took off heading due East up the mountain past Bash Bish Falls and into Massachusetts. Along the way we passed a posse of Turkeys, then another and another. Lexie just looked at them with curiosity as we rode slowly by. Quick fact: Turkeys are named after the country Turkey.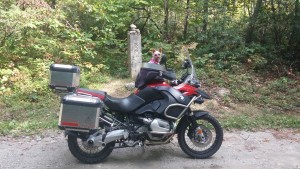 We were on a well maintained Class 4 road when I came across the New York / Massachusetts border marked by a nice road marker. We're literally in the woods and there it was. I did find it interesting that there wasn't one welcoming you to New York though. From here it got as technical as it was going to get. Mostly loose gravel and some small ruts, but the technical part was really in the steep curvy descents with little to no good braking ability.
Coming off the mountain we went from summer cabins to charming historical homes, loose gravel to blacktop, forest to manicured lawns and eventually we ended up at the Lime Rock Park Raceway. Talk about contrast, we couldn't have had more of a contrast in such a short period of time.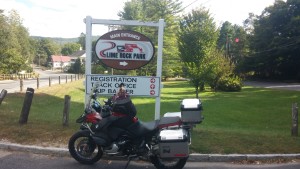 I decided to pull into Lime Rock Park. I had driven by it a few times and despite having had wanted to race here as a young adult with the Skip Barber Racing School, I had never been here, so in we rode. As I approached the gate I immediately spotted trouble as a giant sign stated their policy – NO DOGS! So I rolled up to the gate as I prepared to turn around when the attendant came out to greet me. I explained that I was just looking to get pictures and he asks me if he could take a picture of Lexie. Of course, was my reply. He ran back in to get his camera and came out with a clip board too. After getting some pictures of Lexie he handed me the clip board and told me I had to sign a waiver before entering. He then gave me directions to the Pit Area and told me the the Porsche Club was racing today so be careful. I didn't question him, but thanked him instead and took off for the Pits.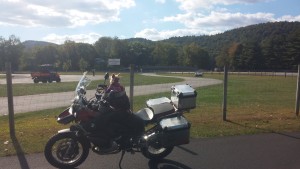 Moment before I crossed the bridge, one of the Porsche's had hit the wall and they were cleaning up the track. The car now sat abandoned in a grass field next to the track. I could hear the cars circling and then there they were. One, Two, Four Porsche's come flying by, followed by another group. More were arriving and entering the track and Lexie and I had an all access front row pass to the action. I took the opportunity to give Lexie her cancer meds and let her stretch her legs away from the action of course. After we mounted back up, I headed down onto Pit Road and we watched the guys work on the cars as the other cars came flying by around the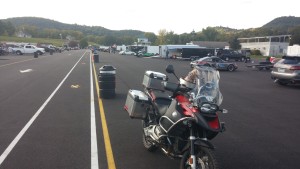 turns. I've been around fast cars before, but never had I seen people using their expensive fast cars exactly how they were built to be driven. I was quite impressed.
It was now time to head back to NY for some dinner and as I left the track I thought to myself, what a contrast today has been and as soon as the thought entered my head, the blog was born. Yes indeed, today was a series of contrasts and the more I though about contrast, the more I realized just how important contrast is in our lives. For some its a weekend escape, a chance to try something different, be someone different; a race car driver perhaps. For other though, like myself, Contrast is a constant yearning. when we lack contrast in our lives, we suffocate.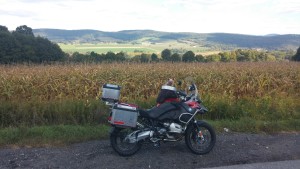 So tell me, how does contrast play a part in your life?