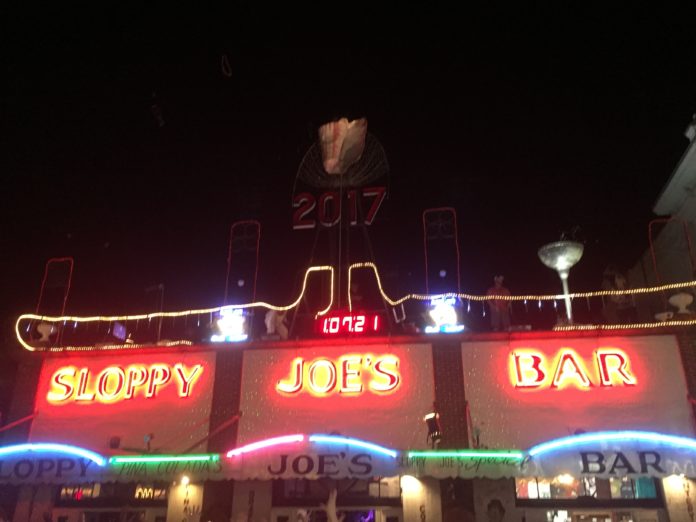 Happy New Year 2017
Key West, FL
Most people live with a plan. From the moment you wake up till you go to sleep, every hour of your day is planned out. Some have theirs planned out so well that they know what they need to do down to the minute. That is not my life, not even close. Sometimes I envy that life as there is no need to think or worry.
I didn't have any plans for New Year's Eve 2017, but I had a desire to be some 2 hours south on Duval St. in Key West, Fl where a Conch Shell would drop at Sloppy Joe's Bar. Having been to the largest New Year's Eve celebration on the planet – Times Square, NY, I was anxious to see what this would be like. Without proper transportation, it is just about impossible to get down there. It would take me all day to bike it and then I'd have to get back north. There was a bus, but I'd have to get to Marathon and then I'd have no place to secure the bike once there. My desire was just that, a desire, still I began to network and pass the word around that I was looking for something to do or some way to get there.
Amy, my host's neighbor and I had met over Christmas. As I had with many others, I asked her what her plans were. She wasn't sure if she was going to Key West, but told me she'd let me know on New Year's Eve. Sure enough, I heard from Amy New Years Eve morning. She was going to go watch her friend sing at a bar and then after go to Key West. She said I was welcomed to come along. I now had a ride, but it wasn't just any ride, we'd be riding down in a 1979 T-Top Camaro with 4 on the Floor.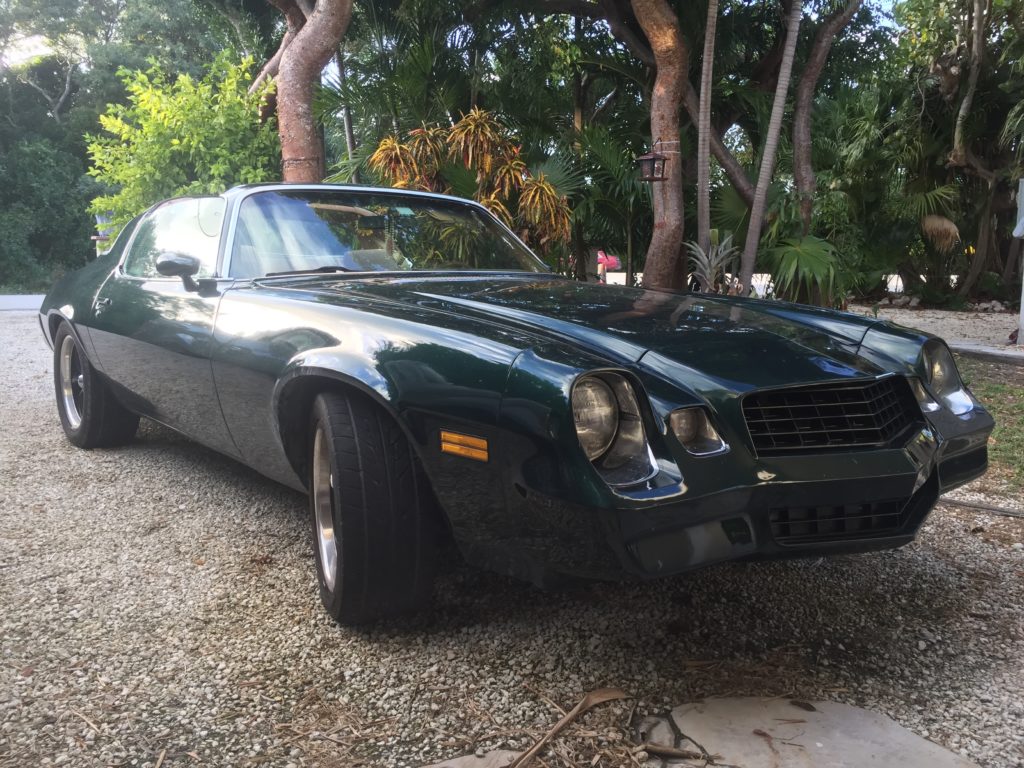 I met up with Amy just before 5pm. Climbing into the passenger seat, I quickly learned of yet another Sports Car I don't fit in, but with some contortionist moves, I got in and off we went. First stop was the Square Grouper to listen to her friend J Lee aka Night Nurse, perform.
Square Grouper, as I learned upon arriving, is a local term for bales of marijuana thrown out of airplanes in South Florida in the 70's and 80's. Unlike the Cocaine smuggling of today, the South Florida's marijuana smuggler were calm, cool and usually non violent – imagine that. Fishermen would sometimes "catch" these bails floating out there.
As I was finished up dinner, J Lee invited us over to hang out with them. We probably weren't an hour into conversation when I learned that another of Amy's friends was not only a New York native, but grew up in Poughkeepsie NY, right where my old Real Estate Office was. We were practically neighbors!
Around 10pm we headed further south to Key West and made our way through the crowd on Duval St to Sloppy Joe's Bar where thousands gathered to watch a Conch Shell drop. The vibe was quite different from Times Square. Everyone was relaxed, here for a good time and drinking in public. I guess it's hard not to when every other store is a bar and most of them are outdoor bars. Up on the rooftop of Sloppy Joe's was a DJ, a Conch Shell and a clock. The DJ, dressed in White stood out, but there were a few others up there with him and as they blasted music out from the rooftop, they were throwing beads off to the crowd below who cheered at the opportunity to catch one.
It was now time for the count down. 10-9-8-7…the crowd shouted 3-2-1
HAPPY NEW YEAR!
We all made it one more time around the sun.
Key West is, for me, a place of pure enjoyment. You can people watch or be a watched people. Some do both, others do neither. It's a spectacular spectacle of humans having fun in whichever manner they desire. Some dress up, others dress down and some don't bother dressing at all.
I was thrilled that I had the opportunity to come down here and celebrate the beginning of a new year, a new chapter, hopefully a happier chapter. Thank You Amy for making that happen.
After getting in at 3am, I woke up at 6:30 and took a bike ride up the island to capture First Light. The Florida Keys are one of only a handful of places you can capture both Last and First Light over the ocean on the same street or bridge.
Here's wishing you all a Happy 2017
I wonder where I'll be for 2018? I'm taking offers.