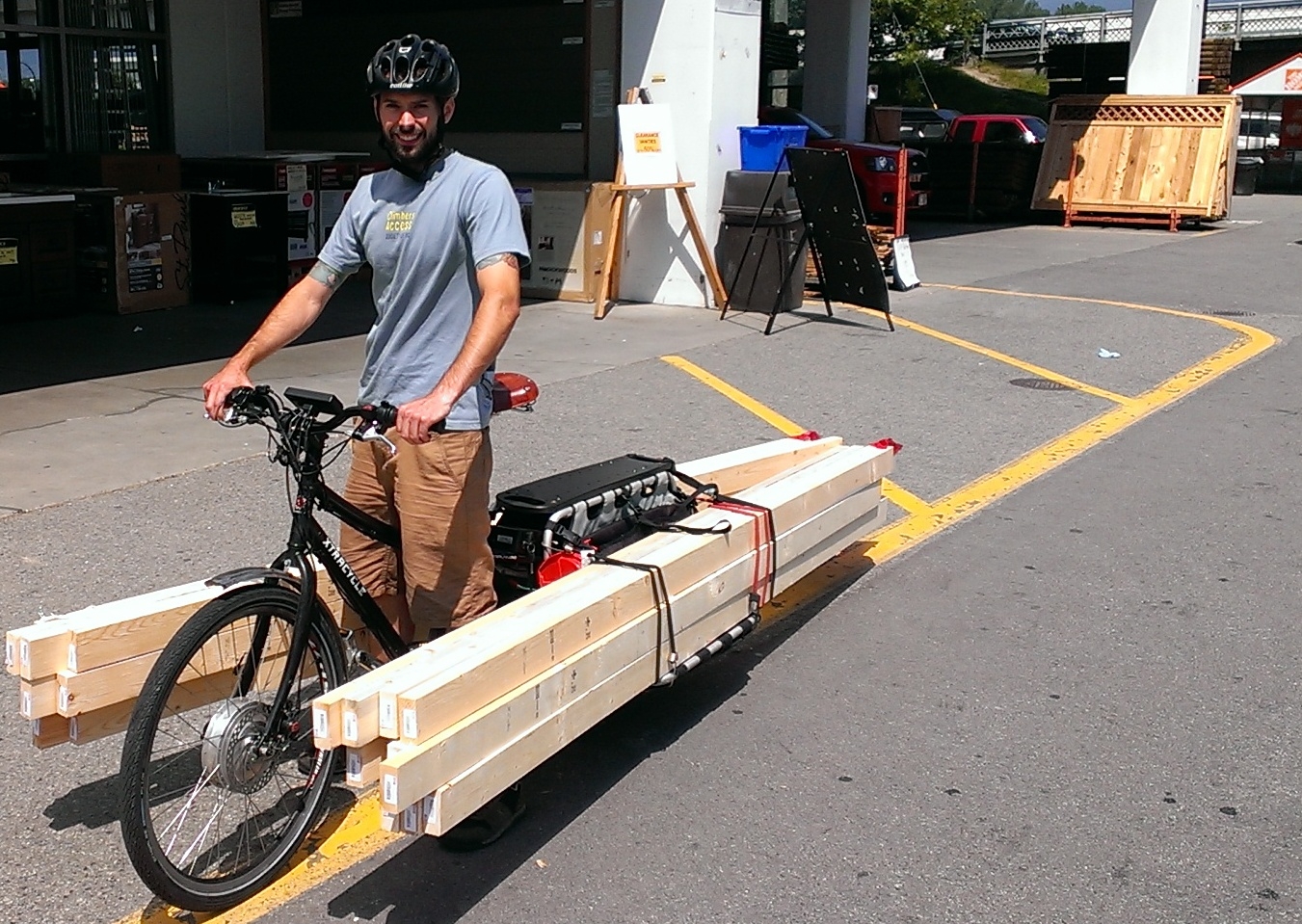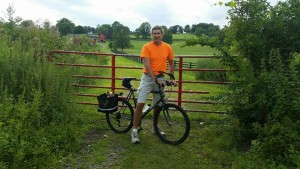 I want to ride my bicycle
I want to ride it where I like
So let's assume for the purpose of this story, me, decides to sell everything he owns and kayak from Canada to Key West FL with no plan of returning to where he once lived…stops before completing the journey? In my case and my defense, I had no plans of stopping until I got to Key West. I had planned on picking up a bicycle once I arrived in Key West, FL. My plan was that I'd be Car Free or better yet, Motor Free.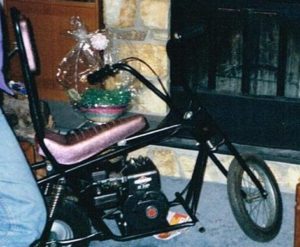 I hadn't been Motor Free since I was 11. By 11 years old, I had earned enough money working to go buy myself a Mini Bike and thus ended my bicycling days. The Mini bike turned into a dirt bike turned into a car, truck, motorcycle and so forth.  Somewhere in all of that progress, I got the idea to get back into bicycling.
It was 1991 and Mountain Biking was becoming a big thing. So was my waist. OK, maybe not that big, but in less that ten years I'd grown from a 32" waist to a 36" and I knew I was less active. I was also missing my dirt biking days and wanted to get outside more, but Larry is not one who can do anything the easy way. Most people in my position would have simply gone out and bought a bike either at what we call today, a Big Box store or a Bicycle Shop, not I.
Much to my brothers horror, he too was planning on mountain biking with me, Larry had to learn every aspect of the business of bicycles. I had charts and graphs showing the differences of each and every bike we were looking at, and there were many. I studied each component. I listened to incompetent salespeople and learned everything I could from bicycle mechanics. When I learned something new, I'd have to go back at each bike I had seen before and analyze that bike against the new information. I guess my brother wasn't too scared off because this massive amount of information led to the purchase of two bikes. We both bought Trek 930 Mountain Bikes and up until July 2016, we both owned those very same bikes. In fact, he now owns my bike too so they are still in the family, but something else happened.
During all my research I discovered that the bicycle stores catered to Racers, specifically Male racers. This was due to the high-ticket price and profit margin on racing bikes and gear and there wasn't too many women into racing. They were into biking and they were getting into Mountain Biking, just not racing. Always one to find opportunity, I saw this as a market that needed to be filled and I was going to fill it. I went to the library and found Bicycle Magazines and subscribed. I then found trade magazines and subscribed. Soon enough, I was buried in more information that I could imagine and not long after that Cyclone Sport was born.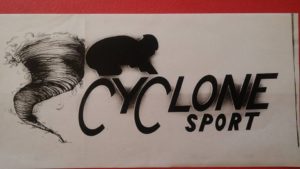 Cyclone Sport was to be a Bicycle Shop with a twist. We would not focus on Racing, but on Recreation and more to the point, women's recreation. Within a month, I had a 3D mock up of our "store" complete with Company Logo, color schemes and merchandising layouts. I had registered the business as a NY "C" Corporation, hired an accountant and set out to find suppliers. This meant that I'd need to attend the Trade Show Interbike Expo, the largest bicycle show for dealers only. In fact, I could not get tickets unless I could prove I was a bicycle dealer. When I asked what they needed for proof, why your Business Card of course. I was, I am, a frustrated Graphic Artist. Business Cards were easy for me, but the show was in a week and this was back when things didn't happen overnight. Luck for me, I knew of a machine that printed business cards and I set to making a few up while my real business cards were on order. I used the ones from the copier as proof so I could get our tickets. Soon, my brother and I were headed to Los Angles California on a jet. We had secured a hotel room, tickets to the show and a rental car. Neither of us had ever done anything like this before, but that's a detail I never let stop me.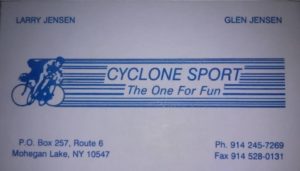 Los Angeles was amazing, though we honestly didn't see much of it, as we'd spend all day in the Trade Show. If I recall correctly, we spent two or three days in toll. We faked our way through the show until we had learned enough to speak and ask intelligent questions. By the end of the show I knew we had a big problem with our plan. Inventory! In order to become dealers, we'd need to floor plan many bikes. Each of these bikes cost between $200 and $700 plus we'd need to carry parts for these bikes and of course, our primary market; biking apparel. We headed back to New York excited and nervous. For the next couple of months I visited bank after bank presenting my 3D Model and Business Plan. I worked with the Small Business Administration and searched out every possible way to secure financing for the inventory, but in the end, the only option I was left with was to start off small selling used bikes and build up form there. Back then, I didn't do things small. It was a go big or go home game for me. Looking back today, this is exactly what I should have done, but we know so much more when we're young and foolish, right?
So what's all this have to do with kayaking? I sold everything.  The thing is, I invested any money I had after investing in the kayak trip and gear so I don't have any access to it, not for a while anyway.  There is no ability for me to go buy another vehicle, but there was something I could buy. I did have enough to buy the bicycle I planned on getting once reaching my destination.
Now back in the 90's when I went Bicycle crazy, I commuted to work on my bike. Yeah, I had at least one, if not two vehicles, plus a motorcycle, but I was commuting by bike. I could do that now. After all, I don't need to go to work to work. I can write at home. I just need to go get groceries and get rid of garbage. This was the plan in Key West so why not now. Why not here, wherever here happens to be.
And so it began; this time, much to the horror of Arlene, my only source of transportation and who was very graciously was letting me stay with her as I figured things out. Sure I was helping her move too, but hosting a houseguest while you are trying to move is not easy to do, even if they are helping you, but especially when they
come with a 15' long kayak and all the kayak gear. So every few days I'd bribe Arlene to take me to this Bicycle Shop or That Bicycle Shop and like before, these were never the ones down the street, but in multiple sates. Manchester, VT. Brattleboro, VT, various towns in Massachusetts, Connecticut and of course, New York. All this while we were moving her into her new smaller place. And like before, I had to revisit places once I learned something new about a bike or component. No folks, being my friend is not an easy task. Interesting perhaps, but not easy.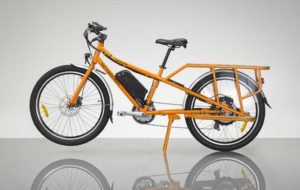 It was in Brattleboro, VT at Burrows Specialized Sport where I was introduced to the Cargo Bike. The woman who owns the shop both used and sold Cargo Bikes. I really loved the idea of a cargo bike, but they are quite expensive and heavy and I'd need to transport this bike around the country with me as I move from place to place in an attempt to discover me. Still, they showed me just how far bicycling in the US has come since my reintroduction to bikes back in the 90's. With Cargo bikes out, she put me on a couple of Hybrid Bikes. Those are a cross between a Mountain Bike and a Road bike, but you sit up straighter than either of those though you are still on your tippy toes when stopped. I tried various models that Burrow's had in stock, riding each throughout Downtown Brattleboro and getting a good feel for them. They were nice, but I was looking for something else or perhaps it was just too early in my search. I moved on.
Back in New York, Arlene took me to Danny's Cycles in Mohegan Lake. I entered the shop looking for and expecting to ride more Hybrids, but while looking at the Hybrids, something else caught my eye.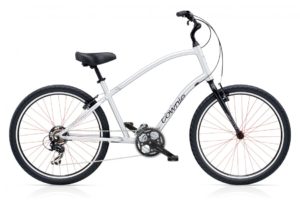 There on the floor was a bike called a Townie 21D and made by a company called Electra. Ironically enough, I learned that Electra was recently bought out by Trek. When I had bought a Trek back in the 90's they were the new guys on the block setting trends, now they were the big dogs. Electra wasn't a new company by any means, but their design was unique. Crank Forward or Flat Foot technology as Electra named it was their niche and basically, they took a cruiser style bike and pushed the crank forward to allow for a full leg extension while pedaling yet at the same time, allowing one to place their foot flat on the ground when stopped. Unfortunately for me, at 6'4" tall, one has a hard time finding bikes that truly fit your frame and they usually have to be ordered. This would be the case here too. Even though the bike they had in stock didn't truly fit, I did enjoy riding it. Like the shop in Brattleboro, I was able to take both the Townie 21D and a Hybrid out for some nice long test rides. I went back to the Townie 21D and truly loved how right it felt.
So that's it Larry, you bought a Townie 21D, Congratulations!
Umm, No. No I didn't.
This is what happened. After trying out the Townie 21D, I dove into research on this bike, this style and everything about it. Everything I read was positive while everyone I talked to was negative. To me, this meant that the local market had not caught up to the Electra Townie 21D and it's Flat Foot Technology. I discovered that the Townie 21D had a cult like following and was one of the top selling bike in the US. Upon learning about this new category, it was time for me to revisit the other shops as well as new shops looking for this Crank forward style of bike.
Since we were back in New York for a while, I decided to check out some more local bike shops in the region. One of them, Bikeway in Mahopach NY was not too far away so we took a trip there. The young man in the shop there put me on a Hybrid at first. It was called an Adventure Two made by Cannondale. Despite having been to over a half dozen shops by now, it was the first bike I test rode that included a full suspension, but unlike the other bike shops, my test ride was limited to their small parking lot. There was just something not quite right about the Hybrid and they didn't have any Crank Forward bikes. They didn't even know what I meant when I asked for it, but the gentlemen showing me the bike told me that if I were to come back tomorrow the owner would be there and be able to properly size me to the bike and resolve any issues I was having with comfort so I made plans to come back. Upon leaving I saw a used Cannondale Adventure for sale out on the sidewalk. I stepped back inside and inquired about it. I was told the price and offered a test ride, but I decided to wait until the next day since it was close to closing time already.
The next day I returned to Bikeway where I met the owner. After explaining my issues and my wish list to him, he put me back on the new Cannondale I had rode the day before. I took it out for another test ride, but something was still not . On the floor they also had a Specialized Roll that I was interested in trying too, but they didn't have my size. The owner said he'd bring in the Roll in my size tomorrow. I agreed to come back, but on my way out the door I remembered the used bike so I took that out for a test ride in their parking lot too. Unlike the new one, this had a much lower profile handlebar and it bothered me. The owner went inside and came out with some optional handlebars if I did get that bike. I also explained to him my concern over the front shocks and not being able to put on a front rack and my final issue, I wanted a long ride, one that included some hills. While he told me their test rides are usually limited to just the parking lot, he'd let me take it up the hill across from the shop and back. Since it was late in the day again and I'd be coming back tomorrow to try the Roll, I made plans to do the longer test ride the following day.
The next day I visited Yorktown Cycles, one of the olds bicycle shops in the region. I test rode some bikes there, but as is typical for someone my size, they didn't have any bikes in my size that I was interested in. While at Yorktown, Arlene said I should trade in the bike I had given her as a gift a few years ago because it was a little too tall for her and she wasn't riding it. With nothing that excited me at Yorktown Cycles, I headed up to Bikeway to try out the Roll they were bringing in for me however, I learned that the Roll was not available in the size I needed. The owner did install those higher handlebars on that used Cannondale as well as a front rack to show me it would work with shocks. I took modified used bike up the big hill and on its first long test ride. It wasn't too bad. Enjoyable even. I went back to the shop and tried out the new Cannondale again. I couldn't feel much of a difference aside from the shifter style, but I was still curious about that Townie 21D and decided to try it out again comparing it to the Hybrid. Since this is where I had originally bought Arlene's bike, I asked the owner about a trade in and he told me they don't do trade ins toward used bikes, just new, but we could work something out. I said Goodnight and left for Danny's Cycles.
Before getting to Danny's I stopped at Arlene's condo and picked up her bicycle, as I was sure I'd be trading it in at Danny's towards the Townie 21D. I arrived at Danny's and took the Electra Townie 21D out for a spin; a rather long spin, tackling some big hills, riding on dirt and grass and over some rough road. I'd bet I was out for at least 30 minutes. It was truly a wonderful bike to ride, but for some reason I still had hesitations about it. Danny's offered me $150 on a Trade in for Arlene's bike, which was somewhat disappointing, but he said we should be able to get $200 if we sell it ourselves. It was then that I learned a Tall size Townie 21D would not be available until mid December. I left disappointed and more confused.
That night I took to the internet searching for a Tall Townie 21D online and I wasn't having any luck so I wrote to the company to see if they could tell me who had one in stock. Arlene would be bringing me back to Vermont after her work tomorrow so I could tend to some business up there. I'd be able to use this time to think things through on the bikes.
Morning arrived and I had to run some errands to do while Arlene took care of her Real Estate business and then we'd both be meeting back up at her house. We'd be dropping off the truck I borrowed from my friend Steve. He had loaned it to me so I could help Arlene move in. My errands included dropping off some items at her Sisters Non Profit Thrift Store. When I got there I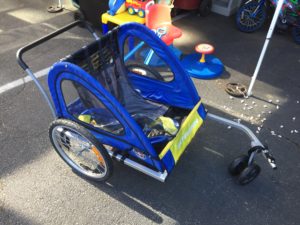 discovered someone has donated a Schwinn Bicycle trailer for pulling children behind a bicycle. I saw this and knew it was perfect for what I needed. I could easily convert this into a utility trailer for my future bike, but I didn't have money to buy it, what I did have was time my time. I gave Donna a ring and worked out a barter agreement with her. I now had a trailer for a bicycle I didn't have yet.
This wouldn't be the first time I've pulled a trailer on a Bike. I did it on my motorcycle and I also rigged my Mountain Bike to tow my kayak as you can see in this video of the test run with Lexie

All the bikes I'd been looking at were priced between $500 and $600 and then I'd need to add in racks and accessories pushing the price up another $150 to $250. That used Cannondale at Bikeway was on my mind. I enjoyed riding it and at $350, it allowed me the ability to set up the bike immediately in my $500 budget, but the best part was that it was in my size. Bike shops rarely have my size in stock on new bikes, in used bikes its non-existent.
We had been hoping to hit the road by Noon for the four-hour drive to Vermont, but it was now 3pm and we hadn't left yet. So what does one do when you are trying to get somewhere far away and are very late? Why you go bicycle shopping!
Upon arriving, I was relieved to see the used Cannondale Adventure Three still out front. It even had the front rack and the aftermarket 5" rise handle bars on it. I took Arlene's bike inside and let them look it over while I test rode the used Cannondale again. When I was done I rode the new Cannondale and then set them up side by side. The owner then came over and asked me if I decided.
The owner looked at me and said… "For the last time! No more questions after this! No More Test Rides! You either want it or you don't" He then went on to explain the differences – "for the last time". While that could have driven most buyers away and I'll be honest, I was close to walking out after that exchange, but I know me and I'm not a typical customer. I probable rode those bikes more than the last 5 customers combined. I've probably asked more questions too. As he was walking away I asked him what he was going to give me on the trade in. He turned around and said $250. I'll take $250 off either one.
Now if I remember correctly, I had paid $300 for the bike a few years ago he just offered me $250 on. I really think he just wanted to get rid of me. Had I wore him down? It wasn't my intent, but it sure seemed like I had.
$250 off the Cannondale brought it down to $100. It's not everyday you get a deal like that. I glanced over at Arlene and she saw the hesitation in me. Do It ! she exclaimed. Perhaps I had worn her down too. I turned back to the owner and said, I'll take the used one without the front rack.
And just like that, in one day, I was back to having wheels. Bicycle Wheels and a cargo trailer.
I now have to figure out how I'm getting this to Key West for the winter. I hear Amtrak has some nice deals.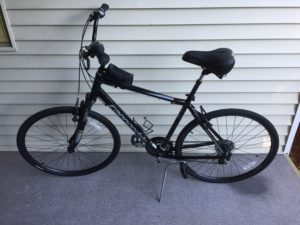 If you'd like to learn more about Cargo Bikes, visit my friends over at TreeHugger.com  http://www.treehugger.com/bikes/cargo-bikes-really-are-everywhere-says-bbc.html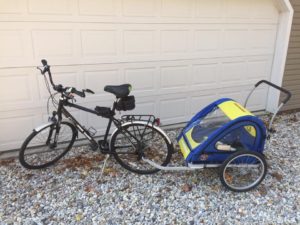 If the opening title sounds familiar, its Bicycle Race by Queen. An interesting song literally written as Queen's frontman, Freddie Mercury watched a bicycle race go by as they were recording a song. If you've somehow managed to get through life without hearing it Click Here
Enjoy the pictures