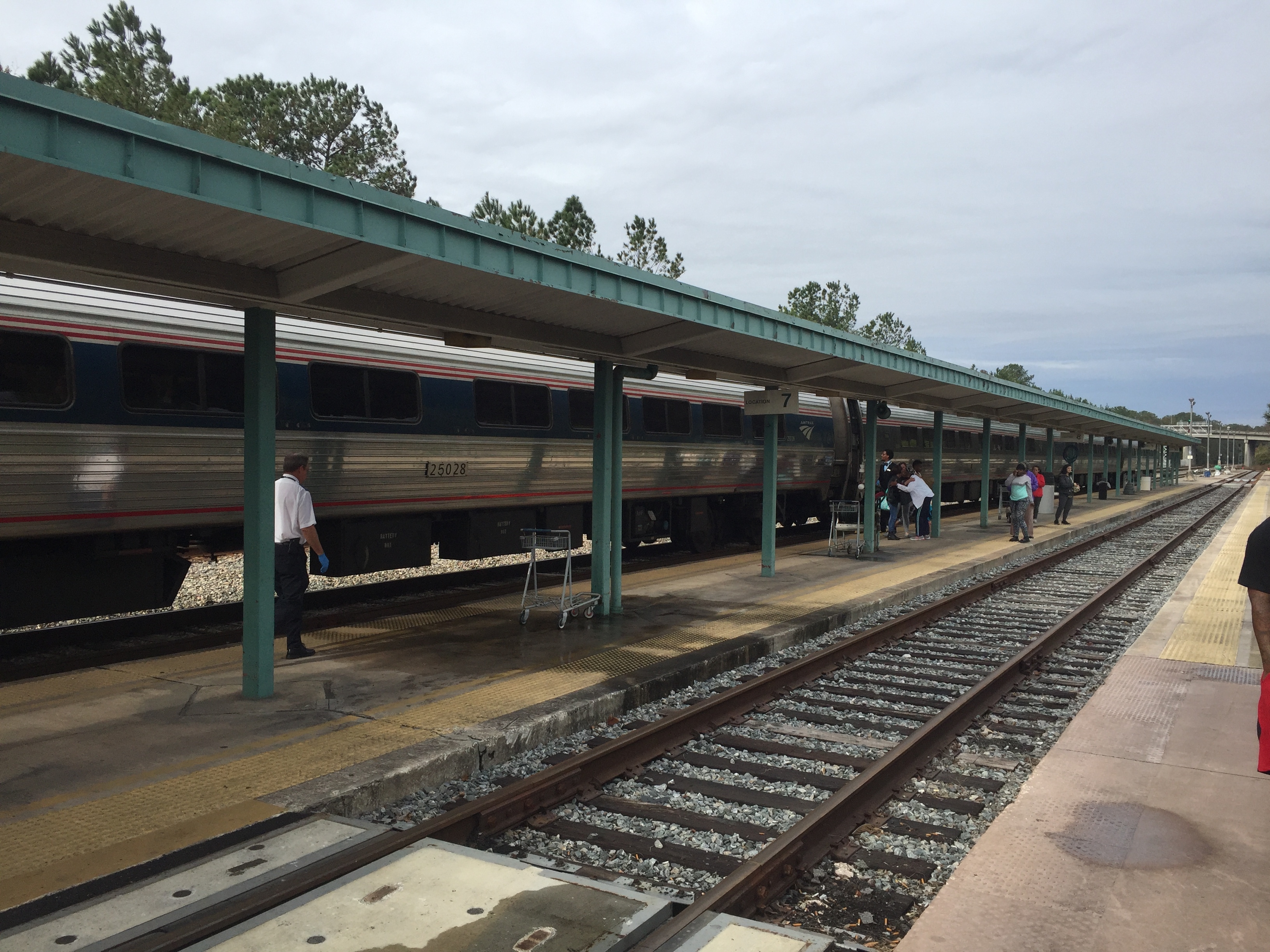 Winter Park, FL
I awoke the first time when the train had stopped for some reason, funny how the silence causes you to wake up. We were waiting for another train to roll through and sure enough, a few minutes later it came by. As it was black as coal out, I could only detect its type by length of sound. It was a long wait so had to be a freight train. The conductor had explained earlier on the trip that Amtrak leases most of its tracks from the rail freight industry and if the train is running on schedule, it won't be delayed, but anymore than an hour late and it must cede way to the freight train. Once that happens, it's tough to make up the time. Various things can cause you to be running behind; Track work, Equipment Problems both on and off track and then weather. For us, I think it was a combination of Weather and Track work as it was pouring very hard all night. It was raining so hard that rain water was pouring in through the areas where the trains connects at times.
Sleeping in the comfy seat wasn't that bad, though I should have taken a neck pillow. I highly suggest a pillow and a blanket for those traveling overnight on the train. My friend Doug suggested having your sleeping bag handy and I think I will do that when I head west as it will be about 5 days onboard.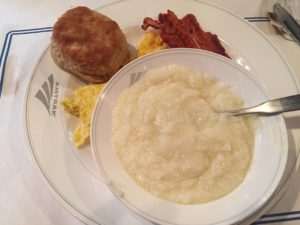 I awoke the second time at 6:30 with twilight breaking and decided that was a good time to get up. Most of the other passengers were still wrapped up under blankets signaling to me that they've done this before. Since I had a window seat I sat there quietly so as not to disturb my sleeping seatmate. Thankfully, she woke up around 7:15am which gave me the opportunity to hit the Dining Car for breakfast before "the morning rush". Breakfast is the only time the Dining Car operates on a First Come First Serve basis, all other times, it's by reservation. Reservations are made on the train for the dining car.
Unlike Dinner, I thought breakfast was a bit light. I ordered scrambled eggs, bacon and in honor of my Savannah Georgia location when ordering, I opted for the Grits too. Everything was perfect aside from the eggs. There weren't a lot of eggs considering it was the main dish and the Grits were a side, but I still enjoyed it. After all, how can you not when cruising at 70 mph through the countryside while drinking coffee and enjoying a nice meal?
Rather than going back to my seat, I took up residence in the lounge car and caught up on emails and social media. When we stopped in Jacksonville, I took the opportunity to get out and walk around for a few minutes. After returning to the train and taking my seat in the lounge car again, they began asking for Lunch Reservations. Since we were running an hour behind schedule, my 12:30pm arrival in Winter Park was pushed back a bit so I decided to have one last meal on this train. By the time lunch was done and I was returning to my seat, we were pulling into Winter Park.
I had to hurry up and find an attendant as I needed help getting all my bags off the train along with my bike, trailer and checked luggage. Once I got off the train and into the 87 degree temps of Winter Park,  the attendant told me to wait right there for my luggage, but after telling him I had the roll on bike, he told me to run up and get to the baggage car. There at the front of the train, I saw the baggage handler trying to wheel my bike back while driving the luggage cart. I met up with him and took possession of the bike as the rest of my luggage was brought back to the station. It was then, as the train bulled out of the station, that I realized I forgot my sunglasses in the seat. Thankfully, I had a second set in my bags, but hopefully they will be waiting for me in Miami.
I hadn't been there even 15 minutes when my host Andrea arrived to pick me up. I'd be staying with Andrea and Kevin for the new couple of days before visiting another friend, Thea, up here. It's Thea & Bud's vacation house that I'll be staying at in the Keys. We got everything loaded in her car and headed off for some drinks and appetizers before headed to her and Kevin's home in Winter Springs. Once at the house, I quickly made friends one of her kitties and her 2 yr old pup.
Tomorrow it's off to explore the beach with Andrea.